Sep 20, 2012
APF Donation
---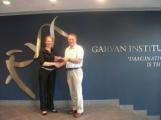 Pictured: Russell Fairweather, the Director of the APF, presenting Dr Ann McCormack with this wonderful donation.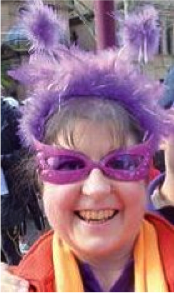 Kathryn Skelsey, a current member (and previous committee member) of the Australian Pituitary Foundation (APF) lives with the effects of Cushing's Disease. On Sunday 12th August 2012 she keenly participated in the City2Surf fun-run with her partner Peter's support and the following objectives in mind: 
' ..to collect sponsorship for the APF through her efforts; to raise awareness of the APF & pituitary conditions; achieve an exercise training goal; and have the satisfaction of knowing if you put your mind to something, you can achieve it ! '
Kathryn's aim was to mainly walk and occasionally jog the 14km City2Surf. She succeeded in colourfully crossing the finishing line in three hours.
Through APF, Kathryn has kindly donated some of the proceeds towards the establishment of a pituitary research database initiated by Dr Ann McCormack at the Garvan Institute of Medical Research.